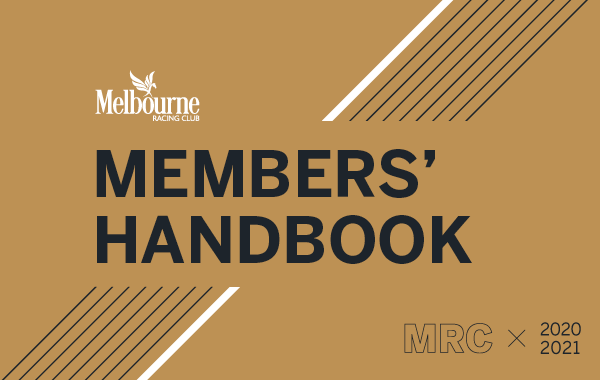 Your Membership Information
MELBOURNE RACING CLUB MEMBERSHIP DEPARTMENT
Should members require any further information or have any questions, please contact us at:
Phone
1300 GO RACE (46 7223)
Head Office Address (temporarily closed under Covid-19 restrictions)
Gate 22, Station Street, Caulfield East, Victoria 3145
Office Hours
Monday – Friday, 8.30am – 5.00pm
Enquiries
membership@mrc.net.au
MRC Membership Website
mrcmembership.com.au
MRC Racing & Events Website
mrc.racing.com
Postal Address
Melbourne Racing Club
PO Box 231, Caulfield East, Victoria 3145
Caulfield Racecourse
Gate 22, Station Street
Caulfield East, Victoria 3145
Phone: (03) 9257 7200
Email: membership@mrc.net.au
Ladbrokes Park (Sandown)
591-659 Princes Hwy, Springvale, Victoria 3171
Phone: (03) 9518 1300
Email: info@mrc.net.au
Mornington Racecourse
320 Racecourse Road, Mornington, Victoria 3931
Phone: (03) 5975 3310
Email: info@mrc.net.au
While we can't have our members physically on course enjoying the racing action, we have developed some new initiatives to bring the action to you. Don't miss a minute of the 2020-21 season with our exclusive member promotions:
MEMBER MERCHANDISE
View our range of 2020-21 season MRC Member merchandise at the MRC Shop. There is something for everyone with Caps, Ladies Scarves, Ties, Polos and Puffer Jackets.
THE PEGASUS PODCAST
Tune in to our weekly podcast for MRC members and racing fans. Brought to you by the Melbourne Racing Club, and produced in collaboration with RSN, it's set to keep you informed, engaged and entertained.
SUPER BOXES
Elevate your at-home race day experience with a Super Box, featuring your favourite race day foods and beverages delivered direct to your door on race day morning.
Members can log in to the online Member Portal to access:
Total points balance
Current membership profile details
Track attendance and spend on course
Race Day rewards and benefits (complimentary beverages and discounts)
Pre-loaded vouchers and products (complimentary guest passes and racebooks)
Number of members referred
Your On Course Race Day Guide
As soon as we are able to welcome members back on course across Caulfield, Mornington and Ladbrokes Park, members can look forward to the following benefits this season.