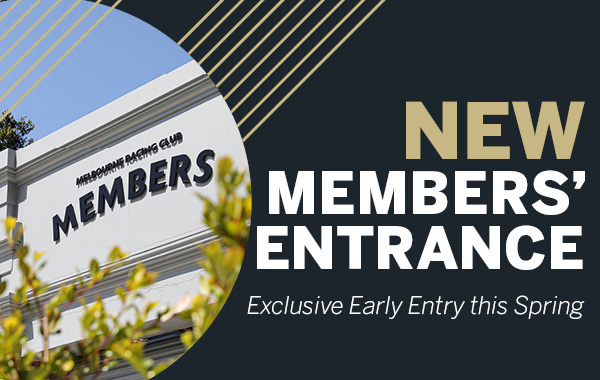 ACCESS CAULFIELD EARLY THIS SPRING
MRC Members will receive exclusive early access to Caulfield Racecourse on Stella Artois Caulfield Cup Day, Saturday 19 October!
MRC Members and Annual Guest Card holders (Provisional Membership)* can access the racecourse and Members' Reserve at 10.15am via Gate 24, 15 minutes ahead of patrons entering all other gates.
While at Gate 24, be sure to check out the Central Park precinct with food and beverage available to purchase from Schweppes, Strongbow Rosé Cider and Central Park Caviar.
Gate 24 will open at 10.15am.
All other gates and non-member access will commence at 10.30am.
*A 2019-20 Member Card or an Annual Guest Card (Provisional Membership) is required for the Members' Early Entry and must be presented at the gate for access. Daily Members' Reserve Guest passes will not provide early entry access. Please note: 15 minute early entry valid at Gate 24 only. Members entering via other gates will not receive early entry.