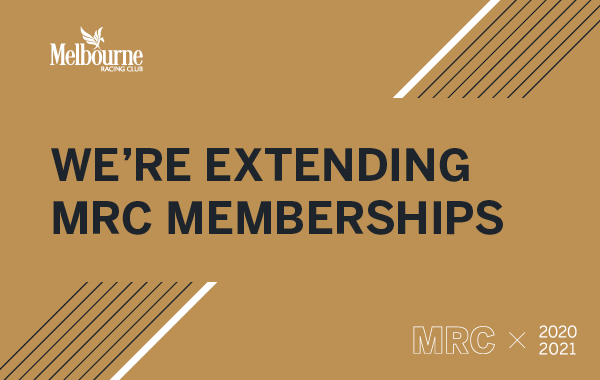 We are extending your membership until December 31, 2020.
Watch Melbourne Racing Club CEO Josh Blanksby's update to members here:
Thank you to our members for your loyalty and support during this difficult period.
We understand how difficult it has been with the restrictions in place prohibiting you from attending our venues. The Club shares your frustrations in being unable to reap the benefits of your current membership or enjoy the many experiences you have come to know and love.
For this reason, we are pleased to announce that the MRC has decided to further extend all current memberships until the end of the year. This means any members who held a membership up until the 31st of July, will continue to hold that same membership until the 31st of December this year.
If members wish to voluntarily renew their membership at any time, we would of course be very grateful. Members can make a voluntary renewal payment by logging in to their membership account below. Simply use your Membership Number (this can be found on your membership card or in member emails) and postcode to log in.
The Club thanks all members who have already done so. We are humbled by your generosity and loyalty at this time.
We are hopeful that we will have members back on track before the end of the year. Indeed, we are still hopeful that we may be able to have a small number of you at The Heath in October. The decision to extend until that time aims to remove any further uncertainty for our members in this already trying time.
As always, we will keep you updated with new activity and ways for our members to get involved in the action of our great Carnival.
Kind Regards,
Josh Blanksby
CEO – Melbourne Racing Club