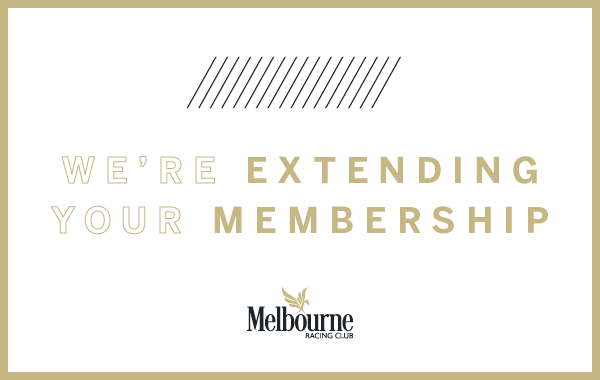 We're Extending Your 2019-20 Membership
Thank you to our members for your loyalty and solidarity during this difficult period.
We understand how difficult it has been with the restrictions in place prohibiting you from attending our venues. The Club shares your frustrations in being unable to reap the benefits of your current membership or enjoy the many experiences you have come to know and love.
Our priority is keeping you a part of the Melbourne Racing Club now and well into the future, and the Club respects how important the decision is to renew membership in this current climate, especially as there is no set date for when we can open the gates and welcome you back on track.
For this reason, the Club has decided to extend all current memberships, free of charge, until 30 September.
The Club will not be asking you to renew your membership, as it usually would, at this time. The current membership you hold will be extended automatically, meaning that no immediate action is required by you.
When we are able to start welcoming Members back to the track, we will be in touch again with the new options for renewal of your membership.
For those members who would like to renew their annual membership by making a voluntary payment at this time, can do so by logging in to their membership account below. Simply use your Membership Number (this can be found on your membership card or in member emails) and postcode to log in.
We're extremely fortunate that racing has been allowed to continue, however it hasn't been the same without our passionate Members on course.
Once again, we thank every Member for standing by the Melbourne Racing Club and we look forward to welcoming you trackside as soon as we're safely permitted to do so.
Kind regards,
Peter Le Grand
MRC Chairman