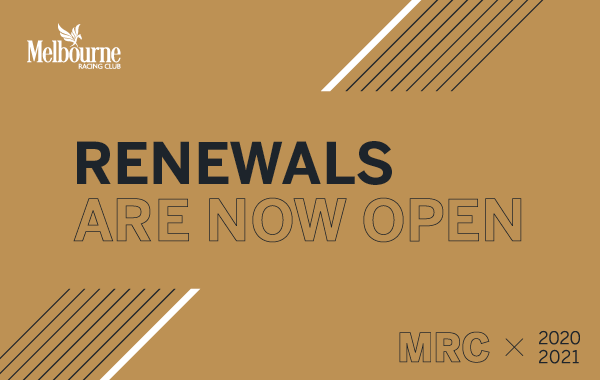 RENEW YOUR 2020-21 MEMBERSHIP TODAY
WATCH: Melbourne Racing Club Chairman Peter Le Grand can't wait to welcome our loyal members back on track.
Earlier this year we extended all MRC Memberships from the 2019-20 season until the end of the year, 31 December 2020. With Members beginning to return to our racecourses, and now a little optimism about the further easing of restrictions meaning that more of us can return to the track, now is the time for Members to review and renew their 2020-21 memberships.
Depending on your Membership type, you may or may not need to actively renew your MRC Membership at this time:
If you have already voluntarily renewed for the 2020-21 season, or are a Youth or Clip Clop Club Member, no action is required of you at this stage.
If you have not already renewed your 2020-21 Membership, we would love for you to renew your Membership on or before the 31st of December.
We would love for all of our current Members to remain Members and again enjoy the Membership benefits through to the end of the 2020-21 season (31 July 2021).
Members can renew their 2020-21 Membership at the link below. Simply use your Membership Number (this can be found on your membership card or in member emails) and postcode to log in.
Melbourne Racing Club has some fantastic racing coming up in Summer and Autumn and we very much hope to see all of you trackside as soon as possible.
Kind Regards,
Peter Le Grand
Melbourne Racing Club Chairman