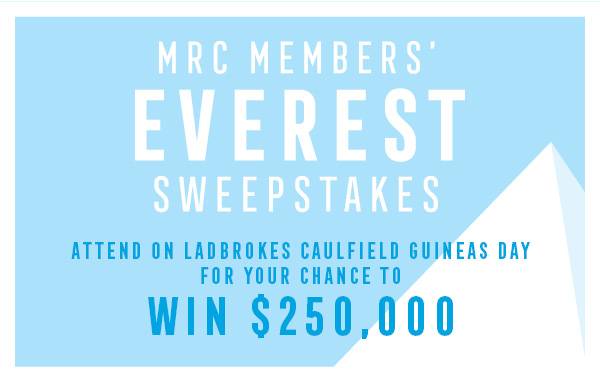 MRC Members' Everest Sweepstakes
We want members to be involved in The Everest excitement with the chance to share in the winnings of the world's richest turf race. Any existing eligible, renewed or new MRC member who attends Caulfield on Ladbrokes Caulfield Guineas Day, Saturday 12 October, will go into the running to be assigned as honorary "Owner" of one of the runners in the Alfa Romeo Schillaci Stakes.
On Ladbrokes Caulfield Guineas Day, Saturday 12 October, each runner in the Alfa Romeo Schillaci Stakes will be assigned to a lucky member picked at random from those in attendance on the day. Every identified member will receive $500 cash and be invited to view the race from the Mounting Yard with the rest of the connections.
The Schillaci winning member will enjoy Stella Artois Caulfield Cup Day in the Committee Room, and, should the MRC Everest slot holder place in The Everest, enjoy a share of the prizemoney (1st - $250,000,  2nd - $100,000, 3rd - $50,000).
Alfa Romeo MRC Everest Series
The Melbourne Racing Club is thrilled to partner with the Australian Turf Club for a slot in the $14m The TAB Everest. The collaboration creates a prime opportunity to combine the fast-growing Everest with the long-standing tradition of the Stella Artois Caulfield Cup Carnival to make Caulfield Cup/Everest Race Day one of the premier events on the global racing calendar.
For the first time ever, MRC's new Everest slot will adopt a racing series concept culminating in the $400,000 Group 2 WFA (1100m) Alfa Romeo Schillaci Stakes winner on Ladbrokes Caulfield Guineas Day receiving our Everest slot.
The lead-up to the Series Final will include three legs, with the winner of each receiving ballot free entry into the Alfa Romeo Schillaci Stakes.